SELL YOUR WHISKY IN 3 SIMPLE STEPS!
Register with Prestige | Book Bottle Collection | Quick & Secure Payment
Whether you have a single bottle of whisky, a large investment portfolio that you are interested in having valued or are the owner of a cask, you can rest assured that Prestige Whisky Auction will help you sell for the highest price to a global customer base. Let us guide and support you through the entire process.
We offer a free valuation service for your bottles or casks. All we need is information on the bottle or cask emailed to us at [email protected] and we will then provide you with a completely free valuation.
Register with us

Register to join Prestige Whisky Auction, contact our team to arrange your bottle collection and we will do the rest!

From registering and collecting your bottles to professionally photographing and writing descriptions, we will ensure your whisky appeals to our global customer base!

Reserve Pricing

Want to make sure you have a guaranteed minimum return? Add an optional reserve price onto your bottles to guarantee your whisky doesn't sell for any less.

For just £6 + VAT per lot, you can rest assured your whisky will not sell for less than your reserve.

Fast Payment

Payments to sellers are paid by bank transfer within 48 working hours of an auction ending. This ensures our sellers receive their funds quickly and securely.
Member Registration
To sell your bottles or casks in our auctions you must register to become a member. There is a one-off registration fee of £5 (plus VAT) which provides a lifetime membership. Your registration confirms your acceptance of our terms and conditions, proves your identity and verifies your authenticity to buy and sell with us.
Register To Be A Member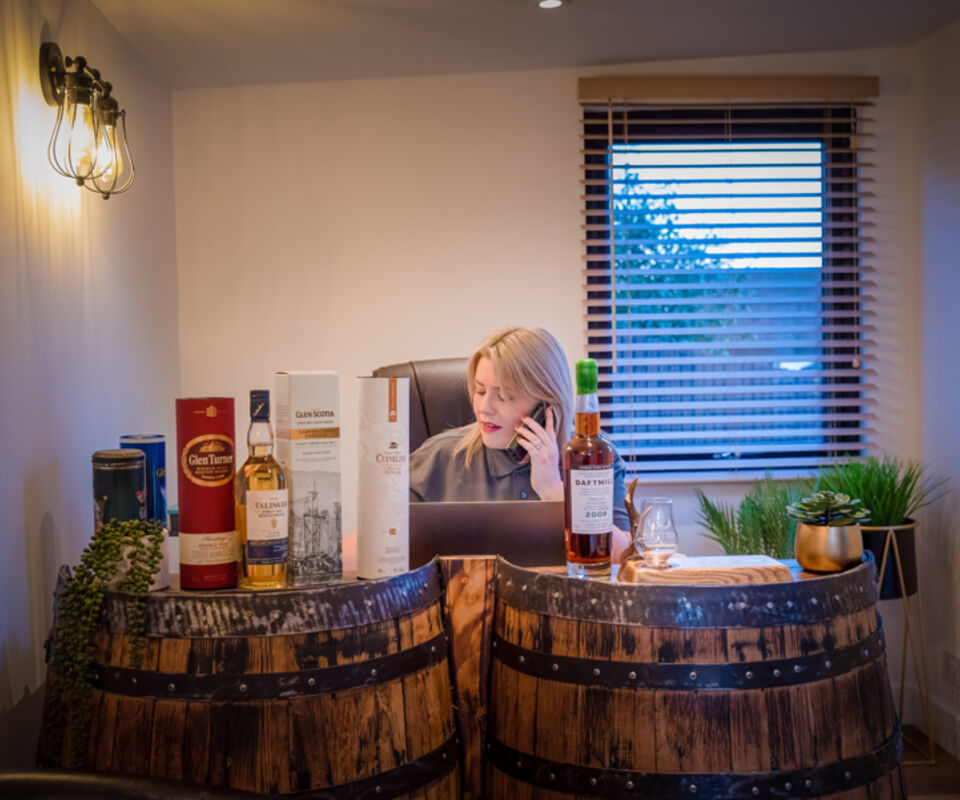 Register Your Bottles
Selling your bottles with Prestige Whisky Auction is simple, hassle-free and can be done from anywhere in the world.
You can either register your bottles via the "sell lots" section in your online member account or alternatively let our experienced team take care of everything!
Please note that the listing fee for each bottle is set at £3 (plus VAT) and should you wish to add a reserve price, the cost is £6 (plus VAT) per bottle. Remember, there is 0% sellers' commission on all lots!
Below are our upcoming auctions and relevant submission deadlines:
| Auction Start | Auction End |
| --- | --- |
| Monday 23rd October 2023 | Monday 30th October 2023 |
| Monday 27th November 2023 | Monday 4th December 2023 |
| Sunday 24th December 2023 | Tuesday 2nd January 2024 |
Choose Shipping Method
Once you have registered your bottles for selling, you will be asked to select one of the following shipping methods:
Courier Collection: You can either arrange to send your bottles to us using a courier of your choice and have it shipped to us. Alternatively, you can contact our team to arrange the courier collection on your behalf.
Bottles should be well packaged in bubble-wrap and placed into a strong box suitable for transport. You should include your completed bottle registration form so we can identify the bottle with the seller. It is also worth choosing to insure the package in case of any loss or damage as Prestige Whisky Auction will not be liable for goods in transit to us.
Personal Collection: Prestige Whisky Auction can arrange a personal collection upon request. Our staff will collect and transport your bottle to our warehouse and arrangements can be made prior to submitting your bottle registration form.
Drop-off: Our storage facility is in Central Scotland, just 15 minutes from Glasgow and 30 minutes from Edinburgh. We are happy for you to deliver your bottles to us by appointment prior to submitting your bottle registration form.
Upon receipt of your bottles, our team will prepare each lot for the next auction. All bottles are thoroughly checked for authenticity, damage and anything else that we feel should be highlighted to prospective buyers. We will then register and professionally photograph your listing to ensure it catches the eye of our global buyers at auction. We may also use these photographs for marketing items in our upcoming auctions.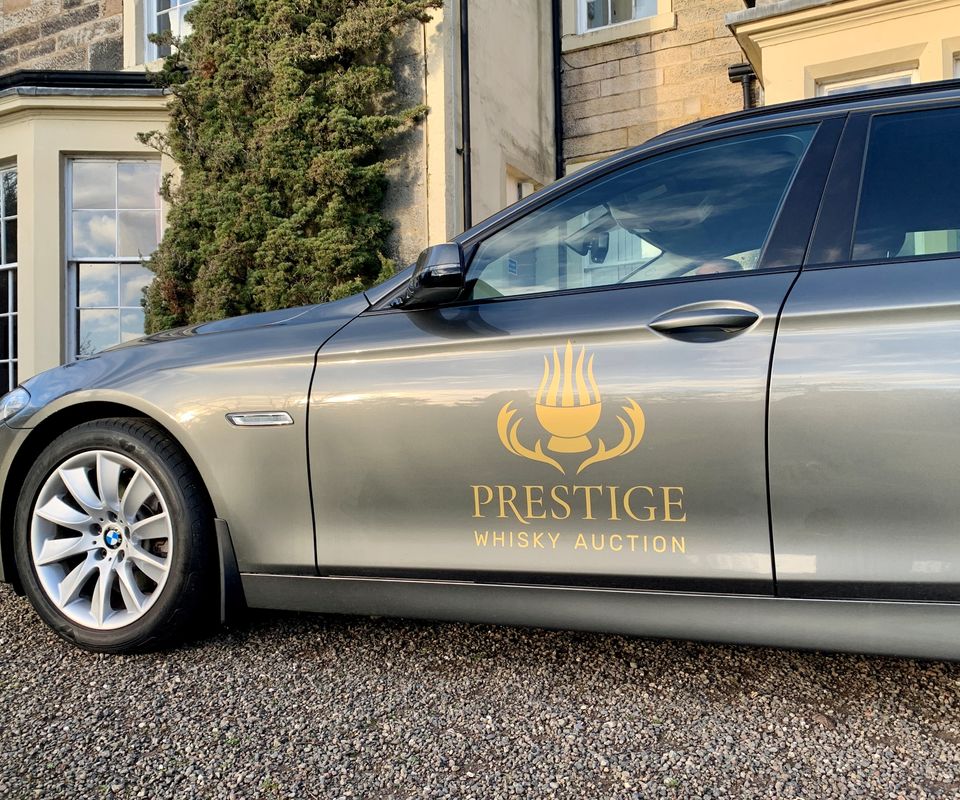 Payment for Sellers
Whether you are selling a single bottle or an entire collection, we know how important it is that you receive payment promptly. The majority of sellers receive payment within 4-5 working days from an auction ending however we ask that you allow between 7 – 21 days for payment to be made. In any event, we endeavour to pay you as soon as is practicably possible.
Our preferred method of payment is by bank transfer. However if you would prefer an alternative then please contact our team.
It is important to note that all relevant selling fees will be deducted from the hammer price prior to final payment being made to seller. A reminder of our deductions are as follows:
Reserve Price (optional): £6 + VAT
Bottle Registration: £3 + VAT
Commission: Free of Charge
Please note that all UK sellers will have to pay VAT at 20% on the above deductions.
Got A Question?
Frequently Asked Questions
Do I have to register to sell whisky with you?
Yes. We charge a one-off registration fee of £5 (plus VAT) which gives you a lifetime membership to Prestige Whisky Auction Limited.
How do I sell my whisky?
Selling with Prestige Whisky Auction is very straightforward and can be completed in just 3 steps: Register your bottle – Choose your shipping method – Select how to get paid.
Full details can be found above.
Our team are on hand to help with any questions or information. Simply contact us and our team will assist.
How much does it cost to sell?
In addition to the registration fee, we will deduct the following fees from the hammer price:
Optional Reserve Fee – £6 per bottle (plus VAT)
Listing Fee – £3 per bottle (plus VAT)
Commission - 0% (plus VAT)
How many bottles can I submit?
You can submit as many bottles as you wish to sell – there is no maximum. However, we do reserve the right to limit the number of bottles of a particular type to avoid mass selling of, for example, a new release.
If you have a collection you are looking to sell then email our team at [email protected] to discuss your requirements.
How do I get my bottles to you?
We prefer that you use a courier of your choice to ship bottles to our storage facility. This is at your expense. Responsibility for safe and secure packaging for transit will be a matter for you and your chosen courier. Please note that Prestige Whisky Auction will not be responsible for any damage occurred to goods in transit.
We offer a personal collection service carried out by our own team within the UK. This should be discussed directly with us and is subject to availability.
You are welcome to deliver your bottles to our storage facility in Central Scotland – this is by appointment only.
For more information, please see our "how to sell" section above.
Do you accept casks in your auctions?
Of course! We have worked with casks for many years and will help you value and sell yours. Due to the unique nature of casks, please contact us (hyperlink) to discuss your requirements. More information can also be found on our "Selling your Cask" page.
My item has sold – when will I get paid?
Upon an auction ending, we aim to make payment to sellers as quickly as possible however we always ask that you allow us 7-21 days. We will make payment as soon as the buyer of your lot has transferred funds to us.
What happens if my item did not meet reserve price and hasn't sold?
If your lot did not meet the reserve price then it will not have sold but you will still be charged the bottle registration fee plus the reserve fee (if applicable).
You can either have the lot returned to you (shipping costs chargeable to you) or you can choose to enter it in the next auction. We would not charge a storage fee for the first 60 days however a further entry fee and optional reserve fee will be charged.